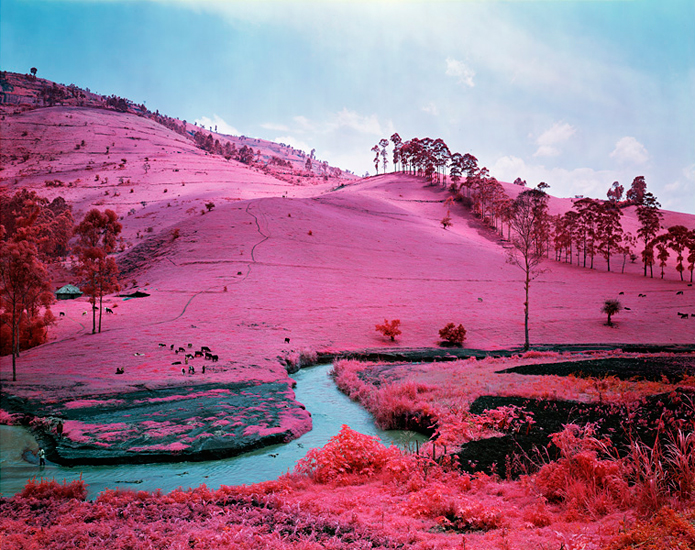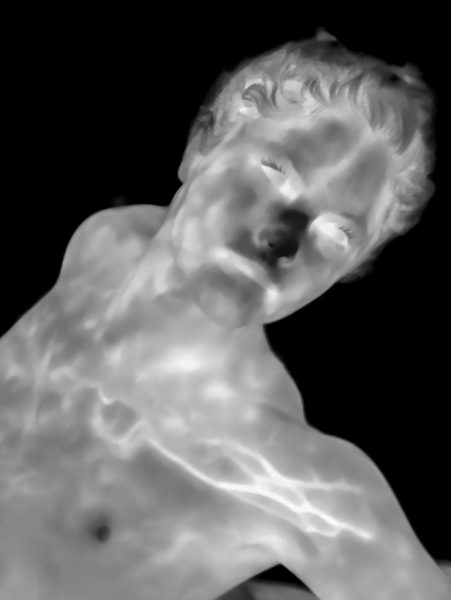 Black and white, photographically, could be considered a method of De-privileging human perception from how we perceive the world around us. We do not see the world in black and white, we see in colour, yet this perception of the world is still limited in the wider spectrum that exists. Richard Mosse as an example, utilises infrared camera technology and film to show the world outside our human range of perception (Fig: 1), additionally, Linda Alterwitz created her series 'signatures of Heat' by utilising a thermal imaging camera, which seems to have particular resonance now we are living in the 'new normal' (Fig: 2). Although I have used film photography a fair amount in my time as a photographer, being old enough to have studied the subject without digital technology having the kind of impact that it does now, I would not comfortably use the medium to produce work that I was invested in as much as the MA. This is very much tied into the ability to check and recheck on the spot until I was able to achieve the result I needed. The more I am shooting with the medium format camera however, the more careful I have become in the setting up and creating of my images, not to say that I still do not make mistakes – some of the images have come back soft, or in the extreme, technical issues have led to losing images.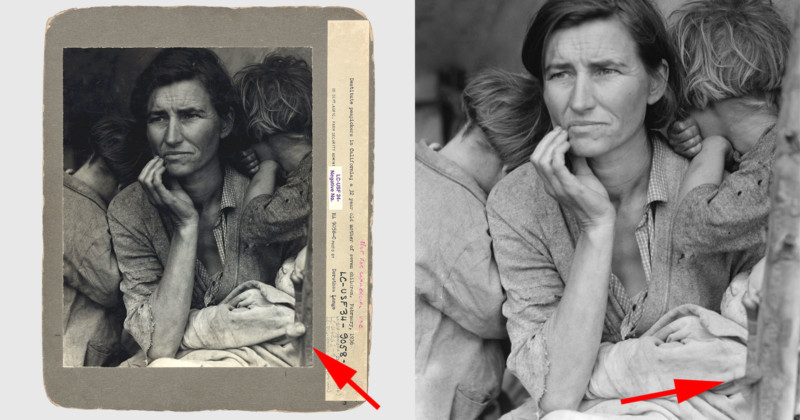 In terms of viewing the world outside how we perceive it however, Black and white is a more common way of showing us this. Aesthetically we as humans find its look quite pleasing and our collective learned knowledge creates the perception of black and white as 'art,' or for more 'serious' work, which is born from the collective experience of a history of images presented in black and white; the ubiquity and fame of 'Migrant Mother' is a notable example of this, as Sally Stein points out: "often circulated as the centrepiece of the documentary canon" (2020, p. 62), which is despite its problematic approach to the facts surrounding the story and the notorious retouching of the thumb from the frame (Fig: 3). Human perception has in part been shaped by this view of the world even though we do not process the objects within it in this way, these images stay with us and create a collective memory of them.
As I have started to consider the photograph as a kind of object, shooting film creates this in a way that digital does not. The negative is a tangible object and shooting in a 6X7 format also attributes a preciousness to it. I am now acutely aware of each frame shot; each one must be carefully considered as each one costs money to produce. A roll of 120 film cost me between £4.50 – £5 allowing 10 frames per roll of film equaling 50 pence per frame, however factoring in processing and time, this would easily be over a £1 per image. As a process existing outside of my usual comfort zone, it is also an apparatus that I am not used to using either, which links to this week's consideration of de-privileging the lens. Although I am not rejecting the lens completely, I am moving away from an easier approach to my photography and making it more of a precious object once again; more of a de-privileging the digital sensor and the ease in which I can make my images. These parameters can support a more focused approach to the creation of the work.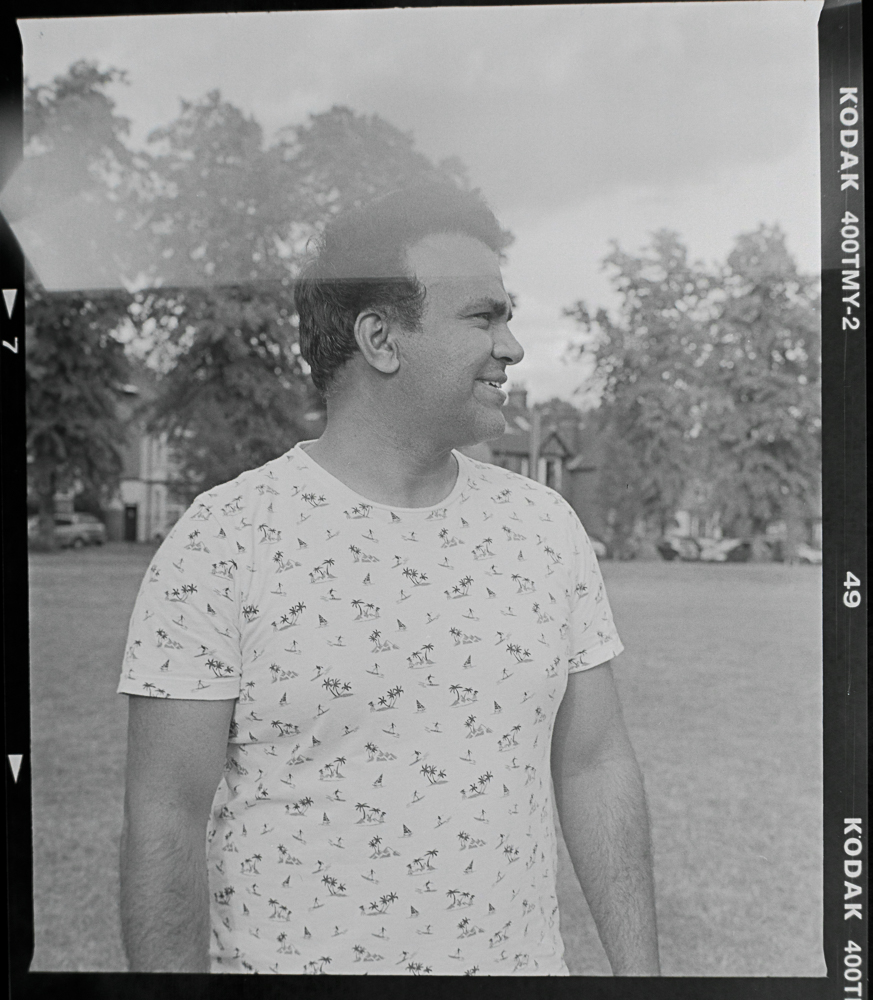 Technically, as mentioned earlier, this is not without its challenges. I had a glitch with an early roll of film that resulted in a serious light leak that ruined the majority of that film (Fig: 4). The portraits that I have been seeking in the public space are hard work for me to approach and shoot as it takes a fair amount of pushing myself to approach people, usually a good couple of weeks in each of the modules spent talking myself into taking these pictures to the point where it might just be easier to do something else, which makes any issues with the results doubly frustrating. However, this does create a more personal connection to the work as I become much more invested in all of the steps of the process in order to achieve a good result. People are at the heart of what I am trying to achieve.
Reality as we perceive it, has qualities and characteristics, which are tangible to us, to our senses, and some qualities, which are not tangible but nether-the-less fundamental to our understanding. By de-privileging the human there is an acknowledgment that the object continues to exist regardless of whether the human perceives it or not, Graham Harmon notes: "the infamous claim that the Pharaoh Ramses II cannot have died of tuberculosis, since in ancient Egypt that disease was not yet discovered" (2020, p. 33), which points out to us that it is easy to forget that our human perception is just part of the spectrum of representation and things exist outside of our awareness.
When photographing this reality, I am transferring some of these qualities onto the surface of the digital sensor, or the emulsion of the film. Qualities are transferred into an impression of this concrete world yet, there are also the qualities of the medium that are important to consider, which also have an effect on the way that the object based in the reality is perceived. Black and white seem the most obvious because it strips out information that we as humans are used to using to understand the world. However the object exists in multiple ways it can be perceived, outside the human range of perception, as the examples of Mosse and Alterwitz show. Black and white in these terms is an equally valid representation in that it is equally limited.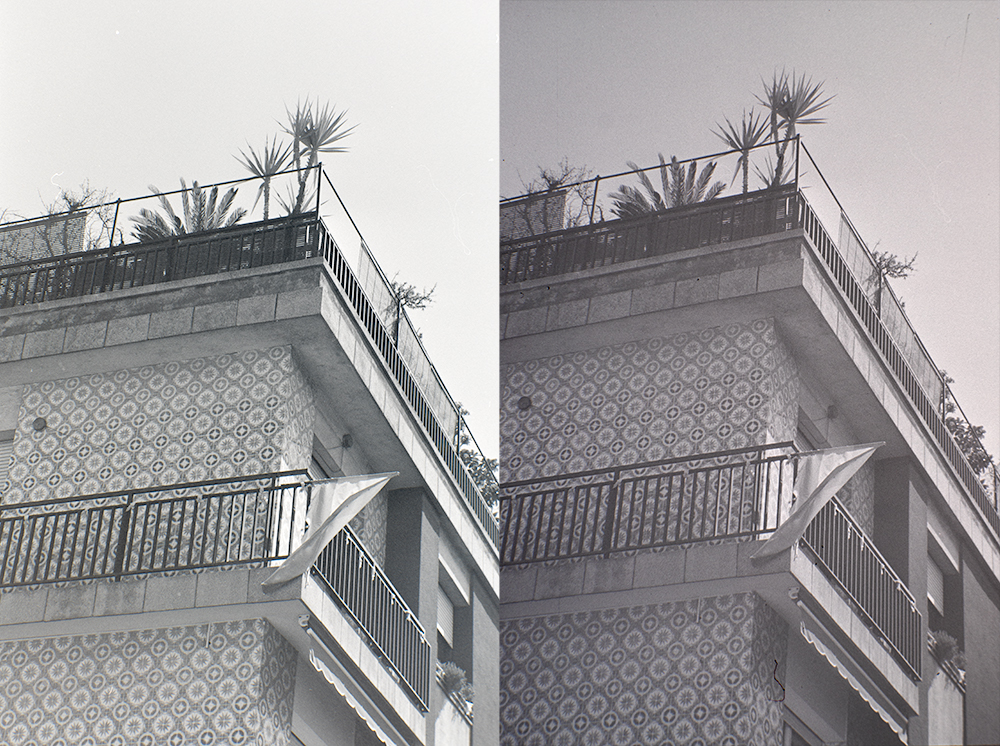 It occurred to me that even though I am shooting film, I am still reliant on my DSLR to digitise the negative (mainly because of the lock down it is my only means of scanning, yet the point would remain for other forms of digitisation). The qualities transferred from reality onto the film emulsion are once again transferred onto another apparatus, the digital camera; One apparatus transferring to another apparatus. I made reference to this in an earlier exploration, where I took a negative I invited a friend to shoot for me and I copied it onto another roll of film, which appropriates that image and creates an object that is mine even though I have never been to Barcelona (Fig: 5). The reality of the image that I copied becomes even further removed from the reality that my friend Seb originally photographed.
Flusser notes that: "Aparatuses are black boxes that simulate thinking" (2000, p. 32), so what is the thinking that I am trying to simulate? The first black box is the film camera, which is being used to create a sense of the documentary aesthetic, a sense of the nostalgia, to a connection to a past that is perceived to be in decline. I have aimed to start making this palpable in the current idea of the 'new normal,' there might be a longing for the time before the pandemic. Aesthetically, I know that the images will be pleasing to look at, as if they could be from 'another time' as was noted of Alys Tomlinson's Ex-Voto series (Molloy, 2019). There is a pathos in our collective understanding of images made during this time.
If reality has qualities that transfer and become in part replaced by the qualities of the film camera and emulsion, then both of these have certain agency over the representation of the object of that image – this agency then takes a role in shaping how we perceive. Those transferred qualities are then transferred and changed again when the negative becomes digitised and the reality recorded is another step removed. This digital image is a copy of a copy and many of the qualities of the black and white negative have been changed, and in some cases limited by the use of the digital camera. Ironically, some of my choices for using film are because of its opposition to the look of digital imagery but needs to be turned into a digital image in order for it to be useful online.
The second black box is the digital camera I am using to 'scan' the negative and has become a necessary part of the process to get my work in front of an audience. This black box is used as a means of translating the simulated thinking of the 1st black box into a usable form, yet it is important to consider the process and chain of qualities that have taken place having been fundamentally changed from the recorded reality, apparatus to apparatus.
Bibliography
Flusser, V., 2000. Towards a Philosophy of Photography. 2018 Reprint ed. London: Reaktion Books.
Harmon, G., 2020. Art and Objects. 1st Paperback ed. Cambridge: Polity Press.
Lamarque, P. & Olsen, S. H., 2004. Aesthetics and thne Philosophy of Art. 2 ed. Massachusetts: Blackwell.
Molloy, C., 2019. Alys Tomlinson. [Online] Available at: https://www.1000wordsmag.com/alys-tomlinson/ [Accessed 15 June 2020].
Stein, S., 2020. Migrant Mother Migrant Gender. 1 ed. London: Mack.