I have been considering the work of Diane Arbus in relation to my own. Comparisons could be made on the surface level to some of my portraits that I have created up to this point. Am I perusing and creating an 'otherness' in the work that I am producing? This is an important question that I should continually ask myself, even after this post is complete.​*​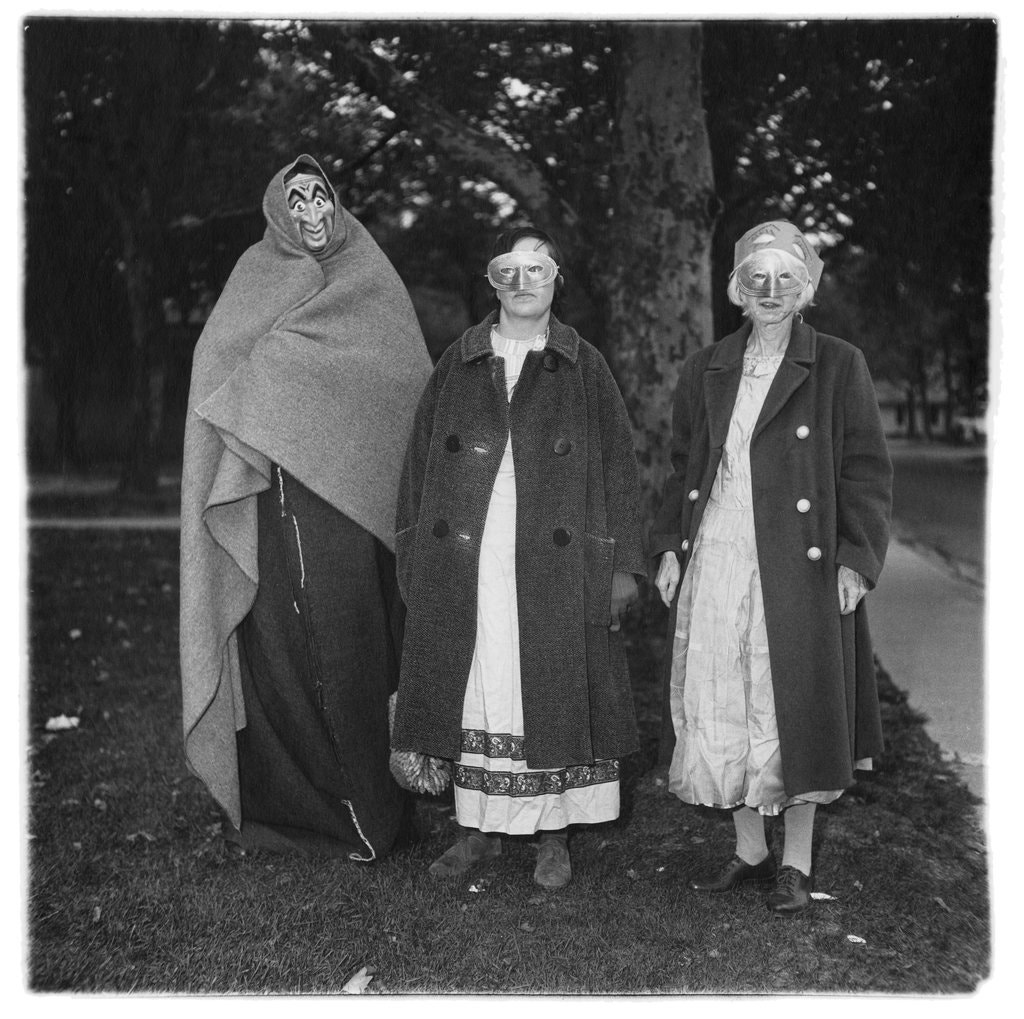 There is not a lot of detail in what Arbus's intentions truly were, she was famously aloof in the discussion of her work, and her estate is quite guarded on releasing much of the material she left behind. Arbus's later images seem to clearly show otherness (Fig. 2) and there is a separation that exists in the language and even the lack of language used to describe them as 'untitled' and 'Freaks.' Arbus's own language in relation to her images exacerbates the problematic gaze that we assume she views them: "Most People go through life dreading they'll have a traumatic experience, Freaks were born with their trauma, they've already passed their test in life. They're aristocrats" (2005, p. 38). However, in that statement there seems to be a kind of nobility in which she views the subjects. It is the use if the word 'freak' however that creates an uncomfortable tension, if this work was created and described as such now, it would clearly incite a justifiable outrage against the artist, and has been, in the critique of Bruce Gilden's approach (Fig. 3), who could be considered equivalent of Arbus in the fall out from recent work, as his critics posit similar views of them "so unforgiving and intrusive they dehumanise the subjects" (O'Hagan, 2015). Even when we take into account the context in which these images were taken, which might be viewed as an Ignorant infancy in the evolution on thinking about gaze and its impact, Arbus's contemporary, Susan Sontag, was particularly critical of Arbus's approach: "For it is based on distance, privilege, on a feeling that what the viewer is asked to look at is really other" (Sontag, 1979, p. 34). A damning indictment of Arbus, which suggests that even during the period, there was a clear awareness of how problematic her gaze was. Discussions were taking place, albeit considered in other terms, critics such as John Berger discussed aspects of looking and seeing, which is highly relevant to the ways that we view the topic today (Ways of Seeing, 1972).
Sontag's view and basis for her critic was that this was based on a kind of punching-down of those deemed other and Arbus's own affluent background & privilege was front and centre to this view. Arbus sort to destroy her personal history in order to enter the world of her subjects. She deconstructed her life in order to change the detachment that she felt growing up (Goldberg, 2005, p. 42), perhaps creating the conditions for further detachment. Arbus photographed the 'outsiders' and was an outsider herself.
Arbus's gaze was a troubled one, and she was a troubled herself; Her images could be a reflection of this. It is worth considering perhaps whose Gaze is the most enlightened, when context, as Sontag herself suggests, drains away (Sontag, 1979, p. 106). The language and the execution of Arbus's images were problematic, however, the way that Diane Arbus photographed, what were considered fringe cultures at the time, created a dialogue of what we are allowed to gaze at, taking it to the most extreme. Her images show is that, indeed, these people existed and should be accepted (Goldberg, 2005, p. 37), and although not the answer to the challenge, but the road map to how we view them now. Arbus herself had lifelong relationships with many of the people that she photographed, and would suggest that this meant her intentions were good. We may never know as Diane Arbus is not here to reflect on this work.
Arbus's work is at one of a spectrum that I don't feel my images compare (Fig. 4). Arbus talks about her lack of experience with the world, writing that she had never had felt adversity and learning about it was purely an academic exercise (Goldberg, 2005, p. 42). Whereas for me and my practice, my intention was to look at my formative community, one that was deeply working class as was I, and reflected in the culture of the carnivals of the region; are they the kind of carnivals that Arbus photographed? Of course not. My own comparison, and perhaps of my peers, might be that I have been subtler than Arbus as I am now the outsider, having worked to change my demographic, so going back to photograph my old community could be considered a look at the other. However, it is from personal experience, which Arbus did not have, and where I also maintain lifelong friendships with some of the people involved, and who helped me connect with the carnival in the first place.
And moving forward onto my current look at where live now, I can see great poverty, and what might be termed 'other.' For example, I aim to connect with a foodbank to explore the idea of how we ostracise some in order to build a community for the majority; pain as Dexter Dias discusses, is a form of social control (Dias, 2017, p. 124). You can cross the street from the house that I live and you will have reached this foodbank; it is part of where I live and a shared experience of the community. Perhaps the bigger question that I should be asking myself is that of my lack of engagement with this place up until now, and why has it taken a photography project to engage with them. And this creates parallels to the critique of Arbus, but also differentiates our approaches – My camera is my passport, yes, but it is not my license to do whatever I want and do whatever I want as Arbus wrote (Sontag, 1979, p. 4), it is my means of meaningful engagement. I see my project now as an autobiographical look of people and place, I must collaborate with those that should self-represent, in a similar way to Anthony Luvera's Assisted Self-Portraits (Fig. 5), though not without my own imagery; I live here too.
Footnotes
---
​*​

I will aim to return to this post in the coming weeks and reflect on the work as it evolves.
Bibliography
Arbus, D., 1961. Jack Dracula at a bar, New London, Connecticut, 1961. [Photo] (Estate of Diane Arbus).
Arbus, D., 1970-1971. 'Untitled (22) 1970-71'. [Photo] (Estate of Diane Arbus).
Dias, D., 2017. The Ten Types of Human. 1st paperback ed. London: Penguin Random House.
Gilden, B., 2015. Betty, from FACE.. [Art] (Magnum ).
Goldberg, V., 2005. Light Matters. 1st ed. New York: Aperture.
Hill, P., 2020. Week 5 WD24 Shoot. [Photographs].
Luvera, A., 2019. Assisted Self-Portrait of Joe Murray from Residency. [Photo].
O'Hagan, S., 2015. A latter-day freak show? Bruce Gilden's extreme portraits are relentlessly cruel. [Online] Available at: https://www.theguardian.com/artanddesign/2015/aug/19/bruce-gilden-face-street-portraits-photographs-book [Accessed 27 February 2020].
Sontag, S., 1979. On Photography. London: Penguin.
Ways of Seeing. 1972. [Film] Directed by Michael Dibb. UK: BBC.